The Valley
The Val Vigezzo (Val Vigèzz in local dialect) is one of the seven valleys departing from Val d'Ossola connecting Italy with Swiss (Canton Ticino)
It isn't a valley with an only river from start to finish, but there are two creeks that flow in opposite directions in a glacial flat valley at about 800 meters above sea level and the Val Vigezzo descends abruptly on opposite sides.
The climate of the valley is healthy and ideal for everything kinds of tourists.
HISTORY
Val Vigezzo was originally populated by the Celts (Leponzi and Insubri).
After Roman invasion in 8 B.C., Santa Maria Maggiore became the main village in the valley.
In the first middle age, Val Vigezzo was a very safe place to live against Barbaric invasions.
From 1014 to 1381 it became an independent confederation protected by Comune of Novara. Suddenly Val Vigezzo passed to Visconti Family. The lords of Milan so conquered he road that linked the Simplon Pass and Canton Ticino.
A transit Valley, the Vigezzo Valley has seen in the past high emigration. Many generations of chimney sweeps, Stove, painters, artisans and inventors born in Val Vigezzo went everywhere both in Italy and in Europe.
PAINTERS' VALLEY (VALLE DEI PITTORI)
Val Vigezzo isn't only the Painters' Valley for local artists.
You can see by yourself what Painters' Valley means. Our beautiful colors and wonderful shades catch you immediately.
Val Vigezzo is both Painters' Valley and Valley of Paints.
HUMLETS TO SEE
A lot of amazing humlets are in Val Vigezzo
For example, Santa Maria Maggiore and Malesco are in the Touring Club Italiano national heritage list (Bandiere Arancioni).
Near Camping Hermitage, Craveggia is another senstional village.
6 EVENTS NOT TO MISS
We chose 6 Val Vigezzo's events for you
 CARNEVALE VIGEZZINO AND CARNUA' DE MALESK - Carnival, Val Vigezzo
Val Vigezzo has two Carnival, the Carnevale Vigezzino for Valley and Carnuà de Malesk (more of 130 editions).
 PILGRIMAGE TO RE'S SANCTUARY - End april/first of may, Val Vigezzo
On Festa del Miracolo (29th april - 1st may), the pilgrimage from Domodossola to Sanctuary can be a good opportunity to discover Val Vigezzo in spring.
And the final destination of pilgrimage is Re's Sancturay. It built in the first half of the last century and it arose in place when in 1494 by a Virgin's portrait gushed fragrant blood.
 CHIMNEY SWEEPS' MEETING - first weekend of september, Santa Maria Maggiore
Val Vigezzo is also call Chimney sweeps' Valley for the many migrant who chose this job. In first weekend of september, thousands of chimney sweeps from everywhere meet in Santa Maria Maggiore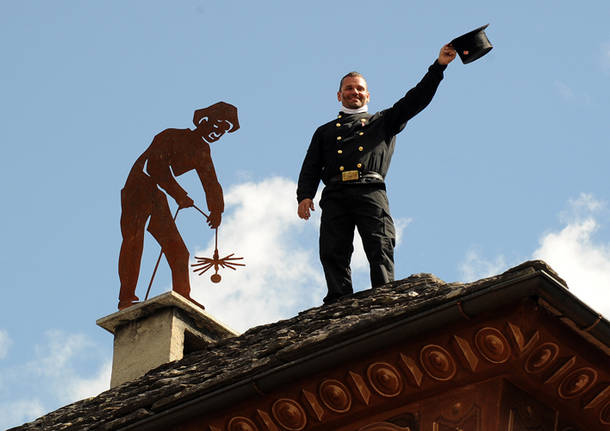 THE NIGHT OF WITCHES - end of september, Craveggia
The wicthes party remember a brutal part of histoy.
However, witches seek today an ironical revenge presenting at the crowd their secrets and potions in Craveggia.
 FOLIAGE - October and november, Val Vigezzo
autumn in Val Vigezzo is realy surprising
The colors in Painters' Valley change every single day.
And if you'll appreciate completely the Foliage, you must go on Centovalli-Vigezzina Railway's train, recently declared best Railway in Italy.
 CHRISTMAS MARKETS - december, Santa Maria Maggiore
On 8th december, the biggest Christmas markets of Piedmont take place in the historic center of Santa Maria Maggiore. There are about 200 stalls of local products and foods.